Australian National Site Guide - West Coast
When printing, you might find that Firefox doesn't print correctly - Chrome, Internet Explorer and Safari seem to work better.
You can save this page (File -> Save Page As...) to your hard drive for offline browsing.
Victoria - West Coast - 13 sites
| Name | Location | Type | Conditions | Rating | Height |
| --- | --- | --- | --- | --- | --- |
| Barwon Heads (13th Beach) | 90km SW of Melbourne, Via Geelong. | Coastal dunes | S-SW | | |
| Bells Beach | Near Torquay, 90km SW of Melbourne. | Coastal Cliffs | S - E | PG2 / HG Supervised | Southside: 35m, Jarosite: 75m asl |
| Bells Beach - Winkipop | Near Torquay, 90km SW of Melbourne. | Coastal Cliffs | SE - E | HG Advanced / PG forbidden | 100' / 30m asl |
| Flaxmans Hill | Near Warrnambool, 240km SW of Melbourne. | Coastal Cliffs | SW | PG4 / HG Intermediate | 180' / 55m asl |
| Grannies Grave | Warrnambool, 240km SW of Melbourne. | Coastal dunes | S | PG4 / HG Intermediate (PG2 / Supervised?) | 60' / 18m asl |
| Johanna | About 30km W of Cape Otway, 180km SW of Melbourne. | Coastal Cliffs | S-SSW | PG4 / HG Intermediate | Saddle launch: 200'/60m asl |
| Levy's Point Beach | Warrnambool, 240km SW of Melbourne. | Coastal dunes | SW | | |
| Logans Beach | Warrnambool, 240km SW of Melbourne. | Coastal dunes | SSW-SW | PG4 / HG Intermediate | 60' / 18m asl |
| Marriners Lookout | Apollo Bay, 160km SW of Melbourne. | Coastal Hill | SE | PG2 / HG Supervised | 750' asl, 230m asl |
| Mt Meuron | Via Wye River, 160km SW of Melbourne. | Large Coastal Hill | S, SSE | PG4 / HG Intermediate | 450' / 140m asl |
| Ocean Grove | 90km SW of Melbourne, via Geelong. | Coastal Dunes | S-SSW | PG4 / HG Intermediate | 45' / 15m asl |
| Portland | Portland area, 320km WSW of Melbourne. | Dunes & cliffs | Various - all except N | Various - PG2 / HG Supervised to PG5 / HG Advanced | Various - 30' - 400' / 9m - 120m asl |
| Spion Kop (Fairhaven, Aireys, Moggs) | Near Aireys Inlet, 130km SW of Melbourne. | Coastal Hill | SSW to SSE | PG2 / HG Supervised - Students prohibited | 150' / 45m asl |
Victoria - West Coast
Barwon Heads (13th Beach)
This is a sensitive site.
Do not walk through the dunes and do not kite up the dunes. As always, give marked Hooded Plover nest sites plenty of room.
Consider flying Ocean Grove or elsewhere instead to reduce traffic at this site.
NOTICE - 13th Beach, Barwon Heads - Limited Access
Until further notice hang gliding operations at 13th beach are restricted to the 40W location. Addtionally, set up and launching are limited to one aircraft at any time.
Top landing at 13th beach is banned except at the launch site at 40W.
Negotiations are currently in progress with Barwon Coast, the responsible authority, to develop a substainable facility.
Takeoff
Hang gliders set up and take off on the grass patch left of the access path at the westmost carpark (40W). Paragliders take off from the beach at 32W or 30W.
Landing
Anywhere on the beach. Hang gliders can top land on launch only. If possible, pack up hang gliders on the beach to reduce impact on launch vegetation.
Hazards/Comments
Like all small dune site this requires excellent ground handling skills for paragliders and good close flying skills for HG and PG.
Victoria - West Coast
Bells Beach
One of the most popular West Coast sites for paragliders. Beautiful, varied coastline with a sizable flyable stretch in the right conditions. Flights to Jan Juc to the NE, and Anglesea and beyond to the SW are possible in the right conditions. See also the Winkipop launch entry for information on the coast run.
Weather station: Graph and near-instantaneous readings.
Takeoff
Southside
(SE-SSW) 35m / 120ft asl. Rated PG2, recommended PG only. Park at Southside carpark and take the track at the end of the carpark. Setup and launch from the astroturf area only. Due to rotor from the cliff edge, this takeoff can be tricky for hang gliders.
Jarosite
(E-SE) 75m / 250ft asl. Rated HG Supervised/PG2. To get to this launch, drive west past the Southside carpark turnoff for about 400 m until you see a dirt turnout with a walking track. Follow the track until you come to a meeting of five tracks. Take the leftmost one to launch. It's a fair way if you're carrying a hang glider.
Landing
Top land on Southside or land on the beach below. Beware, in a high tide/high surf, this beach can get too small to safely land. Always consider your landing options.
Map information
Victoria - West Coast
Bells Beach - Winkipop
The
place to go in a firm Easterly for advanced HG, this is the starting point of the
Coast Run
. Beautiful, varied coastline with a sizable flyable stretch in the right conditions.
Takeoff
HG only. The local foreshore committee does not permit PGs to take off or land on Winkipop launch. The vegetation here is sensitive to trampling. Hang gliders must set up on the west side of the road then carry across. Do not set up on launch as this will jeopardise the site! It is your responsibility to ensure the gate is closed after you. Please ask spectators to keep out of the fenced off area. It is not advisable to takeoff at Winkipop in a light wind. There is no beach ... ever!
Note: This launch is closed from one week before until one week after Easter Sunday while the Easter surfing competition is in progress.
Landing
In an emergency you can topland on Winkipop launch (in front of the road and fence). Otherwise, land on the beaches. Southside (past Bells to the right from Winki) is the closest, but can disappear in a high enough tide. Jan Juc at the surf life saving club to the east, and Pt Addis to the west offer somewhat larger beaches. Generally you would aim to get to at least Anglesea, often with sizeable unlandable sections on the way.
Flight
The first flights to Apollo Bay were achieved in early 1990. These are now a regular occurence in most firm Easterlies. Not yet achieved in paragliders although each season the local distance record is being broken. The flight is very difficult in various places and your first try should be with another flyer already experienced with the run.
Hazards/Comments
There are minimal landing areas available along the entire coast run, and even less at high tide, so treat this run with extreme caution. Be aware that these popular beaches will always have people on them regardless of the weather conditions. It is recommended that all pilots fly with instruments and UHF radio on channel 16. Be warned, highly experienced inland XC pilots have come to grief on this run.
Weather station: Graph and near-instantaneous readings.
Victoria - West Coast
Flaxmans Hill
Scenic Coastal cliffs.
Takeoff
Rounded grassy ground ramp. There is a gate in the fence just behind takeoff.
Landing
Top land next to the track just behind launch or in the paddocks further back. In an emergency, anywhere on top but watch out for rotor.
Flight
Don't want to drive all the way to Eucla? Fly here for views of the fabulous West Victorian coastline. The beat is approx 8km long.
Hazards/Comments
There are no beach landings to the east once past the first bay. Do not fly the sheer cliffs if the wind is light or likely to drop off. When this site is on, there is usually rain associated with the wind direction so beware!
Victoria - West Coast
Grannies Grave
Scrubby coastal dunes
Takeoff
A fair walk from the roadway to the dune tops. Launch from anywhere safe.
Landing
Anywhere on the beach.
Flight
From here it is possible to fly the dunes back toward town.
Hazards/Comments
Whales and associated tourist aircraft during the winter months July through September.
Victoria - West Coast
Johanna
Dunes and coastal cliffs ranging from 60' to 700' asl. The reserve has shower and toilet facilities, but no power is available.
Takeoff
The saddle launch can be reached through the last gate on your right just before you get to the Johanna car park. The track has degraded and and requires a high clearance vehicle. It's 700m to launch at the first saddle. Be considerate of hikers, the track is part of the Great Ocean Walk.
Take care to keep enough speed when launching, it can be more demanding than it looks.
Dune launches from near the car parks are possible, but please consider dune erosion and minimize impact. It is relatively easy to work your way up to the higher cliffs from here.
Landing
On the beach.
Flight
The flying varies from 80-100ft sand dunes to a 700ft coastal hill. There are some sheer cliffs approximately 350ft high in between. The dune section would only be rated as
student
, but the other areas would require an
intermediate
minimum rating. The complete flyable section would be approximately 2km long although in the right conditions the site can be, and has been flown to Moonlight Head in the west through to Cape Otway in the east.
Hazards/Comments
The main danger is that no landing is available at the base of the sheer cliff section, as the water is right up to the cliff at both high and low tides. It is a relatively remote area. The nearest shops are at Lavers Hill. The nearest hospital and doctor are at Colac and Apollo Bay, 65km to the north and east respectively.
Victoria - West Coast
Levy's Point Beach
Coastal dunes. Access is via the gravel road past the knackery. There is a sand track that gets close to the beach and multiple dunes to launch a HG from.
Victoria - West Coast
Logans Beach
Scrubby coastal dunes. The preferred wind is a SSW, but up to a SW is fine too. Further to the east a WSW is doable, but it gets fairly difficult closer to the platform. Often it skews too westerly and makes flying impossible.
Takeoff
Park at the whale watching platform, then walk down the stairs and east along the beach for 600m to a tall rounded bluff - if you look east from the platform it is the highest dune peak you see. Walk another 50m past the bluff along the beach and then up a creek track up to the nice bowl area we top launch from. Plenty of room to inflate and launch there. The launch is located 20m east of the bluff, in a nice curved alcove free from any trees and shrubs.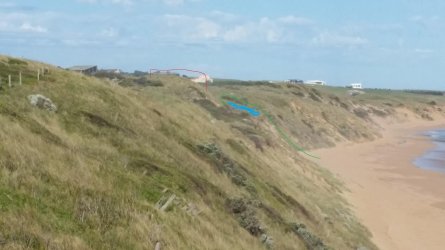 The photo shows the view from the whale watching platform - click for a bigger version. The Bluff peak is highlighted RED, just to the EAST of it is the takeoff area, highlighted in BLUE. To get there, you walk up a track via the GREEN path, behind the trees to the top launch area.
Alternatively, if stronger conditions exists, you can beach launch near the track that is halfway between the bluff and the viewing platform (just 300m east of the platform).
Do not launch anywhere near the whale viewing platforms.
The top launch should be suitable for hang gliders, but it would be difficult getting the glider up onto the top of the sand dunes - the track up is soft and difficult. On top there is plenty of space and shelter. Levy's Point Beach offers an alternative.
Landing
Anywhere on the beach.
Flight
From here is should be possible to fly the cliffs east of Logans Beach.
Hazards/Comments
Whales and associated tourist aircraft during the winter months July through September.
Victoria - West Coast
Marriners Lookout
Large grassy coastal hill range. Good views, good thermals and the option of cross flights along the coast to the east.
Takeoff
Cut grassy smooth ground ramp, lots of set up area. See the fees payable under 'Landowners'.
Landing
Landing on the beach or in the paddocks below should cause no problems but beware of powerlines, fences and gullies. There are also power lines in amongst the pine trees just before the beach.
It is possible to land on top in the right conditions, on launch or right at the top of the hill, some 150' above launch.
Flight
A SE wind generally grades in strength as you go west along the coast from Port Phillip Bay, and Apollo Bay is the end of the line. The Cape Otway BOM readings can be quite different to the conditions at Marriners. On the plus side, you don't need much wind to stay up, and the site can produce beautiful thermals on the face and from the flatlands and township out front.
Hazards/Comments
Beware of powerlines, fences and gullies, and of snakes on the pathway.
Victoria - West Coast
Mt Meuron
Until the stretch between Teddy's Lookout and the town of Kennett River was flown, Mt Meuron was regarded as Victoria's number one coastal site - if it was on! From takeoff at 450' the site rises to 600' asl over its 1km length.
Takeoff
From Wye River take Grey River Road up the back of the hill to the west for one kilometer. There's a maintenance track on your left that takes you under the powerlines, but it's closed to traffic, so park and hike in. Follow the power poles 300m up the hill. A footpath through the bush starts on your left at S38.67255 E143.85435 - check the map. It is about 100m through the scrub to takeoff, an open area on the face. It tends to overgrow and if not flown in a while will need some maintenance to be launchable so be prepared.
Landing
There are no particular dangers to the intermediate pilot except the landing. In an emergency, with the tide out, it is possible to land on what beach there is at the base, however most people land on the beach at the town of Kennet River.
This requires that you fly as far east to the point as you can, then downwind to a spot landing on the beach. There is no particular difficulty. Just keep your eyes open for power lines, and people on the beach. If the wind is a little southerly, expect a little turbulence off the point. If the wind is 12 kts or stronger, it is best to land at the far end of the beach at Kennett River, to avoid the turbulence in the lee of the point.
Flight
The site generates excellent lift in most winds over 10kts. Weather: The wind invariably grades in strength from Port Phillip Heads to Apollo Bay, it usually being 5-10kts lighter at Mt Meuron than at, say, Spion. So if the forecast is 15-20kts on Port Phillip it will probably be good at Meuron.
Map information
Victoria - West Coast
Ocean Grove
Coastal sand dunes from Collendina to Point Lonsdale. Height of dunes: 15 metres max. At some gaps, the front dune height drops to 2 metres.
Takeoff
Access to takeoff is along the old road below the lookout. Assistance on launch is recommended and a positive takeoff is required. The site looks small, but provided you stay within the lift band it is possible to get high over the lookout. See picture for take off location. Hang gliders also have the option of taking off from the SE corner of the first car park. Paragliders must use the main launch due to potential conflict with parked cars.
No top landings please (HG or PG) as this is well-used public path. It's a very quick walk up from the beach.
Landing
Landings are on the beach.
Do not walk up the face of any dunes.
Use the concrete ramp next to the Life Saving Club for access to cars, or the steps back up to launch. This site has been lost before, we do not want to lose it again.
Flight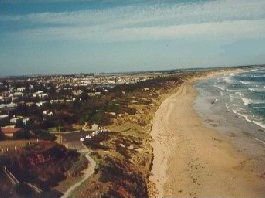 The Point Lonsdale Run is approximately 10km one way and you will rarely get over 100'. Only one very long gap, about 1km east of Collendina, three or four smaller gaps on the way. Excellent view of "The Rip" at the Point Lonsdale end. Pilots flying this trip should be intermediate minimum, able to self launch and should fly in pairs since there are not many people on this area of beach.
Hazards/Comments
People on beach, especially near beach access. Narrow beach (or none) when the tide is in. Turbulence when the wind is off, especially if the wind is around 20 knots.
Victoria - West Coast
Portland
A range of coastal dunes and cliffs which suit a variety of wind conditions and skill levels.
Takeoff
Portland has got it covered, particularly as conversation with local sea salt suggests W and SE winds prevail during the summer months.
Murrells Beach
(SW-WNW) PG+HG. Superb site with rounded takeoffs and easy beach or on top landings. The WNW face is about 250' high whilst the SW face is around 180'. Suitable for all ratings under the right conditions.
Murrells Beach NW
(W-NW) PG+HG. This is an alternate launch for Murrells which can be flown if the wind is more from the right.
Bridgewater Bay
(SSE-SE) PG+HG. Steep faced dunes rises from 30' at the Bridgewater Cafe to 60' 3km east with a good beach landing. Launch from the car park infront of the Lodge.
Please do not walk up the dunes because of revegetation or this site could be lost. All the dunes are part of the National Park.
Discovery Bay
(SW) Discovery Bay provides many kilometres of low dunes and a good beach if you do not mind a walk.
Dutton Way
(SE) PG+HG. This is private land but the farmer has no problems with pilots flying. A grassy hill that is quite shallow, needs a stong wind to be soarable. The farmers house is opposite the caravan park on Dutton Way.
Please get permission before flying this site.
Golf Course / Harbour Trust Road
(NE) PG+HG. Just before the Golf Course two minutes from the centre of Portland there is a 2km stretch of 80+' grassy cliff with a small beach below takeoff suitable for INTERMEDIATE.
Nuns Beach
(ESE-ENE)
PG+HG. Launch from the cliffs in front of the hospital and fly both sides of the lighthouse.
WARNING: Large medical helicopter may land on helipad at hospital. You must land well away from the area immediately, do not cross approach path. No further flying until helicopter has departed.
Pipeline [Closed]
(SSW) [This launch was reassessed and closed in 2018 due to its difficulty.] 250'+ cliffs. The launch is small and right on the edge of a serious cliff with no room for error. This is PG5 only. Not suitable for HG.
Cape Bridgewater Seal Cliffs
(ENE) PG3/HG Intermediate. A sheer 120m/400' cliff. Good top landing. Absolutely no bottom landing directly below or to the right, but only 1km to safe beach landing at Cape Bridgewater Surf Life Saving Club. Emergency landing near seal pier to left. Launch is about 3/4 of the way up just before the fence starts.
Bishops Rock/Shelleys Beach
(S) PG+HG. The launch is located on Bishops Rock. A stretch of 80-100' cliffs facing south with a good takeoff and top landing (but difficult if overshot) and difficult bottom landing. An INTERMEDIATE - ADVANCED site, very tricky if the wind is light or off. Do not launch from the revegetation area on the beach.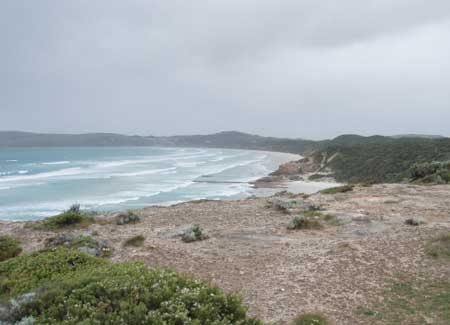 Amos Road - Whites Beach
(WNW-NNW?) Suitable for Advanced PG and HG. This site hasn't been flown much, use caution and your own judgement. PG can beach launch if it's strong enough. Watch for rotor on launch if off to the left. Other launch spots may be more suited depending on conditions. Whites beach is the only bottom landing in either direction for a long way. Overshooting the landing is not an option.
Victoria - West Coast
Spion Kop (Fairhaven, Aireys, Moggs)
Spion Kop is Victoria's most popular coastal site and very beginner-friendly. Given the right conditions it is possible to cross a large gap and fly to the larger hills to the west - this is quite rare for paragliders but nearly always possible for high-performance HGs. You can also fly the low 20' primary dunes at the base towards the Aireys Inlet lighthouse.
Pilots are required to be
Spion endorsed
to fly this site. You can complete the Spion site specific induction with any authorised officer of the Dynasoarers. Just give them a call.
Takeoff
The site permit allows set up only within the marked areas.
Landing
A maximum of four gliders are allowed on the beach at Mogg's Creek at any one time. Use a different section of beach if you must land anyway. The car park can be used as a de-rigging area if there is enough room and it does not inconvenience the public. Landings on top are banned.
Flight
Typically, the wind is off a bit to the right. If it's straight in or off to the E a bit, hang gliders can fly around Big Hill and on to Lorne in the west.
Hazards/Comments
The beach is generally large, but can be very small at high tide when the surf is big. In summer, it can be full of people near the accesses - the beach is many km long, pick an empty stretch to land on if you have to. If there isn't enough beach available to safely land, don't launch.
Beware of the power lines above the bridge on your landing approach into Moggs Creek. These lines also pass directly behind takeoff and along the highway east and west. Remember this if landing away from Moggs Creek. When flying to Lorne, be aware there are no safe landing areas between Eastern View and the Lorne township.
Hooded Plovers nest at this site.
Map information