Submit update
Mt Dandenong
Paragliders are not permitted to fly here.
Takeoff
Takeoff is a steep metal ramp (just above ground level) through a slot in the trees. There is limited clearance directly in front of the ramp. The width of the slot is not excessive and tall trees are predominant on both the southern & northern sides of the slot. Care must be taken in choosing the appropriate launch time & technique, so sufficient flying speed is available to clear the treed slot.
Landing
Landing paddocks are very limited, and it is critical that you contact the local club for the latest details. It is also necessary to check the potential options prior to flying.
The best LZ's are private paddocks owned by the Salvation Army (Nov 2019: Off limits - don't use while we clarify the situation). The Pavitt Lane portion of this is a long skinny strip. The remainder of the area is subdivided into smaller paddocks (by fences). Care and an appropriate landing technique is needed for these areas. (See the picture in "Maps & Site Pictures" for a rough guide but please check these prior to flying.)
Besides the Salvation Army LZ's there are very few other potential landing areas. It is imperative to maintaining this site that you find out which are allowable and inspect them before flying. The main thing to remember on approach is to be very wary of horses in the area and not to spook them. This is an environmentally sensitive area, a lot of trouble and effort has gone into getting the Mountain as a flying site, and so we must be on our best behaviour at all times.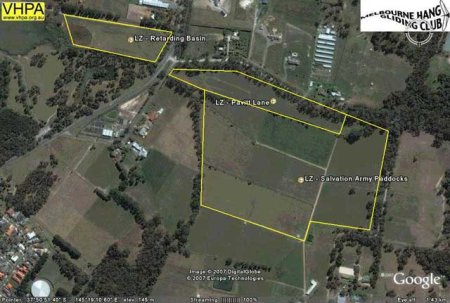 Flight
The site is sufficiently inland to produce good thermals in a variety of conditions from light and variable to moderate wind. In summer it is frequently flyable, however it comes under the influence of the sea breeze. In winter the takeoff is often just above cloud base.
It is a convenient site because of its closeness to Melbourne and its turn around time.
Hazards/Comments
Due to this sites closeness to Melbourne's main airport it is critical for pilots NOT to infringe on controlled airspace. Controlled airspace is at C LL 4500 over launch (only approx. 2000' above takeoff) and drops to C LL 3500 in the suburbs out in front of launch. Pilots must carry altimeters and strictly observe these restrictions.
Guidelines
The club recommends that the site is only suitable to "Advanced" rated pilots, or suitably experienced "Intermediate" rated pilots with:
Suitable Mountain XC experience.
The judgment & skills to fly appropriately (read safely).
Supervised (onsite) by an "Advanced" rated pilot with current local experience.
It is mandatory that pilots new to this site contact and fly with a pilot who is experienced in the site before flying it for the first time. (The club recommends Andy Phillips or Adam Stevens.) This site has specific no landing zones so check with one of the club's committee members or a regular local pilot for details.
Other notes
The site has limited (approved) landing zones which may not always have guaranteed glides to. For this reason it is only suitable to mountain XC experienced pilots, that have the judgment & skills to fly appropriately (read safely).
Map information