Submit update
Mt Hollowback
Mt Hollowback is a grassy, volcanic pimple sticking out of the plains north of Ballarat. It has two microwave towers on the western 'peak' with a good sealed road to the open takeoff areas. Popular with aeromodellers and novice pilots.
Takeoff
North Face
Launch either from below the towers or at the base of the eastern hill for ground skimming flights. It is usually necessary to fly right, across the road to avoid landing in crops below the tower. This presents no difficulties and makes for good STU-NOVICE flights in good winds. Being of gentle slope, the north side is not worth a long trip for soaring pilots. Winds need to be about 18kts for even a meagre height gain and at that stage turbulence is noticeable. Thermals are often available but somewhat unuseable given the high winds needed for ridge soaring.
South And South West Face
Launch is normally from south of the power line. Landing MUST be NORTH of the power line. A single-span power line runs down the northern end of the WSW face, being quite high off the ground at mid-span. Unfortunately the owner of the lower paddocks south of the power line has you lined up in his sights every time you fly. Do not tempt him by landing in his paddock. This side has a better slope and produces good lift in an unstable WSW (bring your raincoat and wellies).
Landing
North landing paddock is large and clear but beware it does slope in places. Usually a very easy landing. South landing paddocks are now available (2014) as per landing paddock map. Ground does slope towards the road. Power line along South of road. Never land in the no landing places indicated on landing paddock map. Good area for top landing but give towers a wide berth and keep cars back near towers to reduce hazards.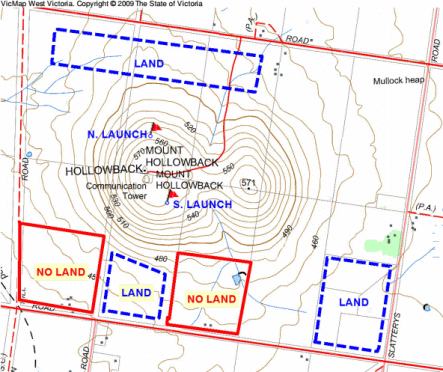 Flight
Good soaring available in more than 12 knots, airflow seems to be unaffected by hills in front even when blowing 20 knots. SW and SSE winds can produce areas of wave lift during evening glass-off. XC flights are made in 12 to 18 knots S to SW winds, clear the top by 500ft to avoid sink on lee.
Map information