Help protect our Hoodies
When flying at low dune sites keep your eyes out for Hooded Plover nests. They will typically be obviously marked with signs and enclosures. Give them plenty of space as they are very sensitive to disturbances when breeding (September to April) and are endangered in Victoria.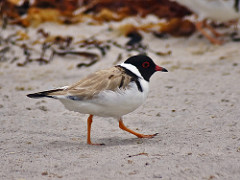 Operational agreement developed in conjunction with Bird Life Vic, Barwon Costal Committee, GORCC and Moggs Creek Hooded Plover Group
100 ft vertical clearance from nest.
Avoid glider shadows on the nest.
Avoid landing within 100 meters horizontally from the nest.
Avoid walking past nest with an assembled glider.
Known nesting locations
Moggs Creek
Nov 2018: One fenced off nesting site immediately east of Moggs Creek.
Breamlea and Blackrock
13th Beach and Ocean Grove
Update as of Jan 2nd 2019:
Two active sites with birds incubating eggs, hatching due in near a week. We have had a successful fledging of the chick at Ocean Grove, the chick was observed flying on Sunday afternoon by BirdLife volunteer wardens, initially flying along the beach then later flying over the sea.
Hooded Plover, active Breeding Sites on the Barwon Coast; 13TH Beach
Sites accurate as at 2nd January 2019
http://www.barwoncoast.com.au/hoodedplovers
http://www.barwoncoast.com.au/sites/default/files/dog_control_brochure_-_november_2011_d05.pdf
https://birdlife.org.au/bird-profile/hooded-plover
Portsea
Update as of Nov 27th 2018:
We have a nest at Farnsworth (west of the SLSC) that is due to hatch beginning of December. The chicks will be vulnerable for a month (until they can fly) and are likely to be on the beach landing area. We will have limited temp fencing on the upper beach. We will try to get a notice up at the launch area.
On the map the current nest is within the red circled area. Upon hatching the chicks are very mobile and it is difficult to predict where the parents might move them to. The area in green covers the territory they have used in the past. We will attempt to keep signage and fences up to indicate where the chicks are but they don't always keep to those areas. Ideally the landings would be safest at the western end of the beach where possible.
Flinders Golf Club
TBA - see signs at site.
Kilcunda
More information
Please visit the following links: