---
Western Australia > Perth Region
Burns Beach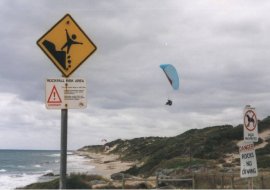 | | |
| --- | --- |
| Type | Low Coastal Dune |
| Conditions | SW-W |
| Height | 0 - 50ft / 15m |
| Rating | PG2 / HG Supervised |
Burns beach is just before Quinn's just north of Joondalup. Take Hodges Drive exit of freeway, turn north at Marmion Ave then west on Burns Beach Road. Park at the end of Burns Beach Road. The dunes are north of the car park. The best launch area is a few minutes walk up the beach at a large blowout. In ideal conditions intermediate and advanced pilots may be able to launch beside the toilet block north of the carpark. 4WD access to the beach further north is possible for those who like to get their cars dirty.
Landowners - ?
Contact/Responsible
HGAWA
Description
Good low beach site for a southwesterly wind.
Flight
Take off from beach. In a south south westerly only the biggest dune with the blow out is flyable. With a good wind strength and WSW to SW winds several kilometres of flying up to the Mindarie Keys and Quinns Rocks is possible, but it may be necessary to walk a few steps to cross the bigger gaps, especially upwind.
Council Rangers may deny you flying this site. This is a public beach so watch out for spectators. Take care not to damage dune vegetation.
Hazards / Comments
The alternate launching and landing beside the toilet block can be dangerous due to a complete lack of landing options if you don't stay up or overshoot a landing. Only experienced pilots in ideal conditions should attempt this site. Although only low dunes there can be rotor behind, and the strong winds required to fly can lead to injuries if dragged. Any part of your glider landing in the ocean can be fatal - don't become complacent with regards to these sites. The gullies can exhibit a strong venturi effect, stay well in front in stronger winds.