---
Victoria > West Inland
Cave Hill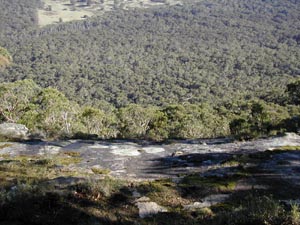 | | |
| --- | --- |
| Type | Inland Mountain |
| Conditions | W, WSW |
| Height | 1200' / 360m agl, 3182' / 970m amsl |
| Rating | Experienced Intermediate - HG only |
Go along Mount Cole Road. Turn left onto Cave Hill track. Go 1 km to car park. Launch is 90m from car park to right.
ESTA 000 Emergency Markers (?)
CAV100: Launch
CAV200: Landing
Landowners
Launch: Parks Victoria.
Contact/Responsible
WVHGC
Description
Inland rock face slopes down at 30 deg leading to a 3-4m drop into wooded area overlooking upper end of Middle Creek valley. Set up area is very rocky, sloping and limited to about 8 gliders in area.
Your first flights here must be under supervision of a Western Vic club member to learn site protocols, prohibited landings and other land access restrictions. We have lost too many sites caused by unknowing visiting pilots and do not want to lose any more.
Visitors are welcome, but please contact us first. The club has annual running costs for this site's T/O & LZ and would appreciate regular visitors become a member of the club.
No flying from this site, or driving on tracks, during Total Fire Ban days. No vehicles in paddocks unless by the express consent of that owner. Keep speed low on dirt roads, especially near houses. No smoking on launch or landing zones. Pick up any rubbish you see, beside tracks, launch and landing areas.
The National Parks Act 1975, Part 1, 4(a)(iii)provides for the use and enjoyment of those parks by the public for inspiration, solitude and appropriate self-reliant recreation.
This site is managed by Parks Victoria under the National Parks Act 1975. This site has been temporarily prohibited for use by Parks Victoria. Should you choose to launch from this site you may be in breach of the National Parks (Park) regulations 2003, Part 2, section 44(2) "A person must not, in a Park- (a) launch or land an aircraft."
Flying prohibited on Total Fire Ban days. Paragliding is not possible from this launch.
Takeoff
Take off is from rock face. Committed run is required. Slope is steeper than most launches.
Landing
Land in paddock to north of Middle Creek camping ground, or go on round Mt. Cole to paddocks south of Mt Cole alongside Ferntree Gully Road.
Flight
Good for days when the wind is a bit south of west for Ben Nevis and not SW enough for Ben More.
Hazards / Comments
Rocks are slippery when wet and hazardous particularly to wiremen, if used. Beware of single power line that runs on the SW side of Ferntree Gully Road.
Map information