---
Victoria > West Inland
Elmhurst Hill
Closed
Flying at this site has been suspended subject to approval from new landowner.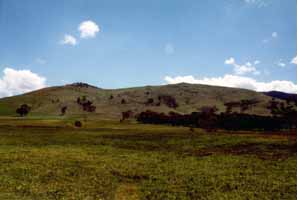 | | |
| --- | --- |
| Type | Inland hill |
| Conditions | ESE - SSE |
| Height | 600'/ 180m agl, 1673'/ 510m amsl |
| Rating | PG2 / HG Supervised |
North of Elmhurst, near Mt Cole State Forest. The town of Elmhurst is on the Pyrenees Highway about 6km NE of Ben Nevis. Vic roads Map 57 F4.
ESTA 000 Emergency Markers (?)
ELM100: Launch
ELM200: Landing
Landowners
Owned by Mr. Ted Moore.
Contact/Responsible
WVHGC
Description
Large clear, grassy hill.
This is an extremely sensitive site and access is only allowed with a WVHGC committee member present. Paragliding is not permitted from this launch.
Takeoff
Take off is a rolling slope, and quite easy in a moderate breeze. The owner had banned any cars access to the top, due to vehicles damaging the tracks. Now there is access to 4WD's only, but car pooling is a must, fill all vehicles with as many pilots as possible.
Landing
The landing area is directly in front of take off, approximately 1km out beside the access road. On top landing is possible directly behind the take off.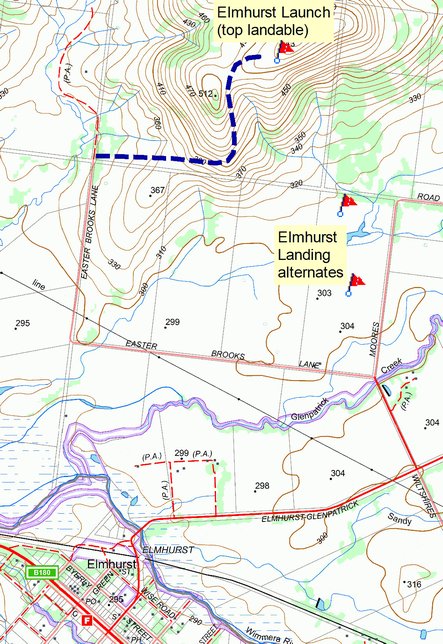 Flight
This site is usually flown when the wind at Buangor is too strong or too far off to the SE. The wind at Elmhurst is usually lighter than at Buangor because it is sheltered by Ben Nevis and Mount Lonarch. Cross country flights are possible from this site when the wind and thermal conditions are suitable.
Hazards / Comments
The lee side of the hill is very steep, and a rotor should be expected behind the hill. Do not fly over the back in ridge lift only. There is usually turbulent air above and to the right of take off when the conditions are strong. Clearly visible high tension power lines run across the landing paddocks.
Map information