---
Western Australia > Perth Region
Gingin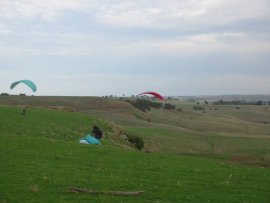 | | |
| --- | --- |
| Type | Inland Ridge |
| Conditions | SSW-SW |
| Height | 100ft / 30m agl |
| Rating | PG2 / HG Supervised |
Near Gingin (about one hour north of Perth on the Brand Highway). This site is privately owned. The owner wishes all contact to be through a few people. If you wish to fly this site organise your first flight here with a club member who has good knowledge of this site (Rick Williams, Nigel Sparg or Mark Wild). As with all privately owned sites, this site is sensitive and could easily be lost. The site is a few kilometres from Gingin, get directions from someone who has been there.
Landowners
Private
Contact/Responsible
HGAWA
Description
Inland site north of Perth. One of few sites that works on the typical SSW summer sea breeze in Perth. In R155 military airspace.
Flight
This site is in military airspace - Restricted zone R155 - so absolutely no flying is permitted there till R155 is deactivated - usually after 5.00 pm on a weekday (except Fridays which is usually after around 3.00 pm) and usually all weekend and public holidays. (Need to check NOTAMS for area 60 Pearce PEX as sometimes special military airforce exercises are conducted after hours or on a weekend in which case R155 remains active.)
Very small ridge, works better than it looks like it should. Nice big grassy launch. If you get low you will be in rotor of the ridge in front, it's best to stay above take off if possible and top land. If you sink out land on the flat area immediately below takeoff. Can be flyable on the summer sea breeze, but generally only late in the day when the strength dies off.
Hazards / Comments
Potential for rotor if you get low in front. Low ridge, so flying is usually close to the ground, it is an inland site so potential for strong lift, sink and turbulence form thermal activity. The face is very rocky. It may look the size of a sand dune but it hurts more if you hit it, and the wind is not as dependable as on the coast, be cautious. Probably only safe to fly in smooth evening conditions or in winter, as there is insufficient height to cope with thermal induced turbulence safely.