---
Western Australia > Margaret River and Southwest
Greenhills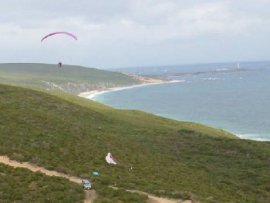 | | |
| --- | --- |
| Type | Coastal Ridge |
| Conditions | SW |
| Height | 250ft / 75m |
| Rating | PG2 / HG Supervised |
Set your trip meter to zero at the start of Hill View Road in Augusta and look for a track on your left heading south at 5.4 Km. About 1 km of sand track - sometimes OK for 2WD, but can develop blowouts.
Landowners - ?
Contact/Responsible
HGAWA
Description
A very long coastal ridge, good flying. Not flown in years by PG, site information needs to be updated.
Takeoff
All take-offs are in the bush so select the clearest spot with the best uninterrupted air flow and not behind any steps in the ridge. Watch the bushes in your lines.
Landing
There are lots of options for top landing on the side of the ridge. Stay away from gullies and sharp edges - there is generally little rotor or turbulence in clear areas. Landing is in the bush so pick a patch that doesn't look too high. Bottom landing is possible on the beach in some areas but getting up the cliffs could be a problem. Bottom landing may disappear at high tide.
Flight
Good site with variety of ridge shapes from rolling hills to cliff. Site often provides good ridge and thermal lift and can be flown in light and strong wind. The route for the local scenic aeroplane flights goes right over the site so watch for them - especially if you're high. If it looks like a good day you might even stop in at the airport to let them know. Carry communication as the site is big and long.