---
Western Australia > Geraldton and Midwest
Mount Rennie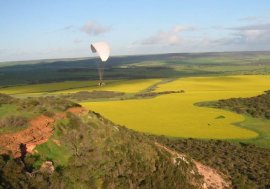 | | |
| --- | --- |
| Type | Table Top Hill |
| Conditions | SSW to SSE |
| Height | 300ft / 90m AGL, 615ft / 190m ASL |
| Rating | PG4 / HG Intermediate |
Entry via farm. Drive slowly to reduce dust when downwind from the farmhouse and sheds. The site is about 17km NE of the Chapman Rd turnoff from Geraldton.
Landowners - ?
Contact/Responsible
HGAWA
Description
Nice southerly site near town, flyable on the seabreeze. Definitely NO ACCESS without clearance from the land owner via local pilots only. You MUST contact local pilots in Geraldton before heading up there to get access. If you haven't been here before, contact Cloudbase Paragliding Club or Hillflyers Club or other pilots with experience at the site. Preferably organise your first flight with a club member or local pilot who has good knowledge of this site. This site is privately owned, so is sensitive and could easily be lost. There is no problem with parking for lots of cars. No camping. Never access the property, even to just take a look, without having gained permission. 4WD recommended for access to the top of the hill. Avoid interference with the DGPS station near launch. Keep on access tracks and avoid crops at all times.
Flight
Difficult take off for paragliders due to the shape of the hill which tends to create a very strong wind right at launch in soarable conditions. In stronger winds, suitable for hang gliding only, there is a significant rotor just back from the edge. For paragliders it is best in lighter conditions when starting well back from the edge makes the inflation easier. Bottom landing is best near the road up the hill to the NW of an old water tank site, to the right of take off. XC record is only 40km but post frontal could yield a good cross country into the farming area northward. Nice view of the "large golfballs" spy base inland and back to the city and coast if you get some height. Avoid landing in crops if possible. Toplanding not recommended except in the lightest and non-thermic conditions. Even then, why would you take the risk! Bottom landing in front has moderate downslope toward creekbed. Land cross-wind and cross-slope if necessary.