---
Victoria > West Inland
Mt Sugarloaf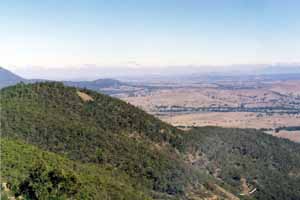 | | |
| --- | --- |
| Type | Inland Mountain |
| Conditions | N |
| Height | 1250' / 380m agl, 2300' / 700m amsl |
| Rating | PG4 / HG Intermediate |
There is a good though unsealed road running the entire length of the state Forest, from Raglan at the eastern end to Warrak in the west. Take the Mt Ben Nevis turnoff (well signposted) and continue on until the second left turn (Cowans track). At the top of the next rise the track splits two ways. Take the left fork and continue 1 - 2km to where the track goes up a very steep rise (4wd only) the launch is immediately at the top of the rise. Lots of parking and large set up area. Vic roads Map 57 E6.
ESTA 000 Emergency Markers (?)
MTS100: Launch
BNS200: Landing - Bombout
MTS200: Landing - Warrack long bombout
Landowners - ?
Contact/Responsible
WVHGC
Description
Treed Mountain ridge to the south of Ben Nevis launch an alternative to Nevis in stronger Northerlies.
Your first flights here must be under supervision of a Western Vic club member to learn site protocols, prohibited landings and other land access restrictions. We have lost too many sites caused by unknowing visiting pilots and do not want to lose any more.
Visitors are welcome, but please contact us first. The club has annual running costs for this site's T/O & LZ and would appreciate regular visitors become a member of the club.
No flying from this site, or driving on tracks, during Total Fire Ban days. No vehicles in paddocks unless by the express consent of that owner. Keep speed low on dirt roads, especially near houses. No smoking on launch or landing zones. Pick up any rubbish you see, beside tracks, launch and landing areas.
Takeoff
Takeoff can be seen from Ben Nevis to the left (as shown in picture below) and reveals a corridor through the trees. The ground slopes steeply and is rough.
Landing
Landing zone is the same as Ben Nevis. Do not land to the south or east of Feud Road. This was formerly a landing area, but landing there is now prohibited. See map. Alternately over the back at Warrak or off to the left at the paddocks at the end of the Sugarloaf track.
Flight
As this launch is used when a northerly wind is to strong to launch at Nevis, you find that the flying beat is quite short and can be turbulent if there is any hint of east in the wind direction.
Hazards / Comments
Beware of the possibility of rotor near the trees on launch (this site has claimed a few gliders) an good launch run is paramount keeping on good speed until you are past the trees and through the surge of lift.
Map information