---
New South Wales > Northern Beaches
Newport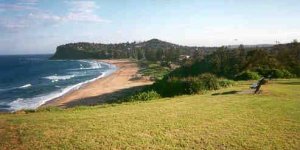 | | |
| --- | --- |
| Type | Small coastal cliff plus high coastal hill. |
| Conditions | South to South East |
| Height | 80' / 25m |
| Rating | PG4 in front of the road. Otherwise PG5. HG Intermediate. |
North end of Newport Beach. No parking on the ocean side of Barrenjoey road next to the park entrance. Check the signs for parking restrictions. Metered parking in Newport Beach carpark.
Landowners
Public land
Contact
SPHGC Safety Officers
,
Sydney Paragliding & Hang Gliding Club
Responsible
Sydney Paragliding & Hang Gliding Club
Description
A.k.a. Eric Green Reserve. A South to South East facing cliff, with a grassy park above the beach.
Takeoff
HG: On the grass in the park. On most days you will have to fly in close in order to get up. Let pilots who launched before you get up to the tanks prior to you launching, otherwise neither one will get up! Large sink holes exist behind the houses below 100' above them. Don't cross over to the next bowl until you have 100' above the water tanks. When you decide to cross over take a few short passes to make sure that you can make it back over that ridge that separates the two. In east south east conditions there is rotor behind this ridge. Watch the trees in this bowl for movement as they indicate where the lift is.
PG: There are two launches 15m apart, use the one most appropriate for the wind direction. Because of the height of the hill behind, the launch can be in a bit of wind shadow. If there are white caps inside of Newport reef it's too strong for Paragliders. When the breeze is too far to the south for safe soaring, 'darkies' appear on the water behind Bungan Headland. Don't cross over the road until you have 100' (30m) above it. Keep in mind that the only safe landing option is the beach. PG5 pilots who go into the bowl west of launch and south of the water tank should exercise caution.
Landing
On the beach. Top landing: not an option for HG, not recommended for PG as the trees have grown up around the site. The football field is not a landing option because of power lines and rotor.
Flight
This site has two halves, the section below the road (PG4), and the much larger hill above (PG5). Hang gliders: To undertake the run up the coast, you need an east south east breeze. Lower Level of controlled airspace is at 2500'. 100' clearance required to fly over the road and houses.
Hazards / Comments
HG: The beach is popular in summer, make sure you have a landing spot.
The launch is very small with trees close by, you need to be good at ground handling to fly this site. There is a sewer vent pipe below launch. There are power lines on the side of Barrenjoey road. Care should be taken in going too far north of launch with respect to penetrating back to the beach in strong wind. Permanent beach volleyball nets on beach should be avoided.