---
Australian Capital Territory - Canberra and NSW surrounds
One Tree Hill, Gungahlin
| | |
| --- | --- |
| Type | Inland Hill |
| Conditions | NE-E |
| Height | 2874ft MSL |
| Rating | PG4 (provisional) |
On the western side of Gungahlin. For directions to the LZ on Harry Seidler Crescent see Google Maps. There is a walking track to the top of the hill which starts near the 90-degree bend on Harry Seidler Crescent. See the blue track shown on the first landing diagram below. There is no road access to the launch site.
Landowners
The One Tree Hill launch and landing areas are on crown land. The ACTHPA has verbal approval to fly at this site. Pilots should exercise a high degree of care to maintain positive relationships with adjacent landowners and local residents.
Contact/Responsible
ACTHPA
Description
One Tree Hill is a north-south ridge on the western side of Gungahlin. The site takes a northeast to easterly wind. The ridge height is 2874ft MSL and class C airspace starts at 3500ft MSL, so to remain clear of air space the maximum flying height is 626ft AGL.
The nearest real-time wind station is at Spring Hill 5.5 km to the north. If the wind at Spring Hill is easterly and is below the red limit, that is less than 35 km/h, it is likely to be flyable at One Tree Hill.
This site is a PG hike-and-fly site.
Takeoff
The launch site is adjacent to the Bicentenary Track in front of the One Tree Hill lookout (see photo below).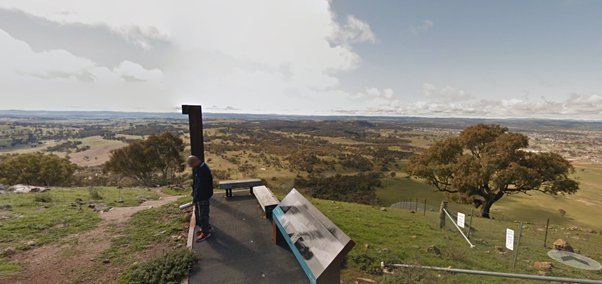 The take-off is tight, between two trees directly in front of the lookout.
The land on the right side of the fence near the lookout is private property. The ACTHPA does not have permission to access this land for launches or landings. Please do not climb over the fence.
When first flying this site please first obtain a site briefing from a duty pilot, a safety officer or via contacting the club.
Landing
Landing options are limited and are shown in the diagrams below. It is recommended to visit and familiarise yourself with the landing areas before flying.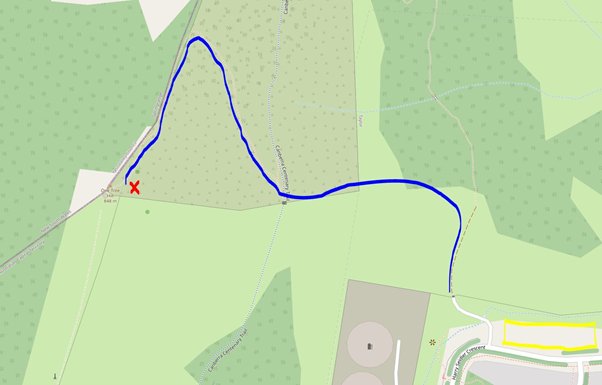 Blue – walking track to launch Red – launch Yellow – landing area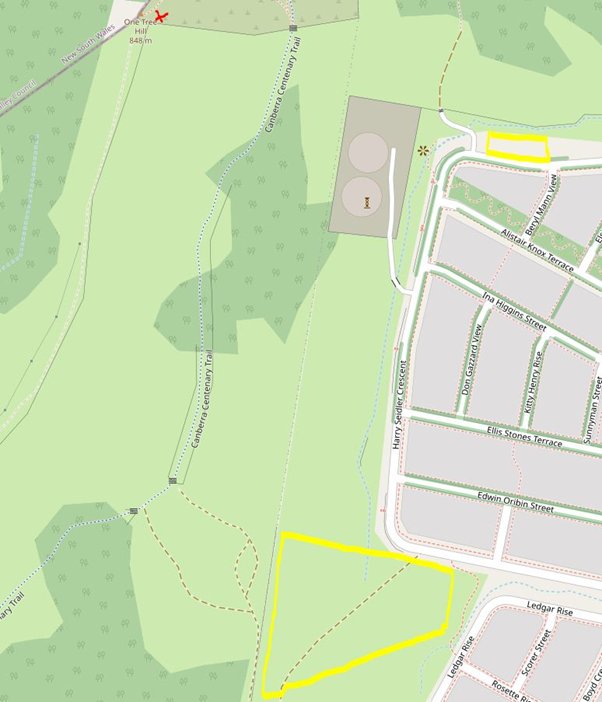 Red – launch Yellow – landing area
Hazards / Comments
Airspace is low due to the proximity of Canberra Airport. Airspace maps can be found here. The launch is close to a public lookout and spectators may congregate to watch pilots fly. This site is close to the suburb of Taylor and hence avoid overflying residential properties, particularly when landing. The site can become thermic earlier in the day than expected - some pilots have noted this change as early as 7 am.
This site is provisionally rated for PG 4 pilots and above due to the tightness of launch and landing areas, it being close to a public lookout, and since the landing areas slope downhill into wind.
Map information