---
Victoria > West Coast
Portland

| | |
| --- | --- |
| Type | Dunes & cliffs |
| Conditions | Various - all except N |
| Height | Various - 30' - 400' / 9m - 120m asl |
| Rating | Various - PG2 / HG Supervised to PG5 / HG Advanced |
Portland area, 320km WSW of Melbourne.
ESTA 000 Emergency Markers (?)
GSW418: Murrells Beach
GSW401: Discovery Bay
GSW526: Golf Course / Harbour Trust Road
GSW408: Cape Bridgewater Seal Cliffs
GSW413: Bishops Rock/Shelleys Beach
GSW402: Amos Road - Whites Beach
Landowners - ?
Contact/Responsible
Dynasoarers
Description
A range of coastal dunes and cliffs which suit a variety of wind conditions and skill levels.
Takeoff
Portland has got it covered, particularly as conversation with local sea salt suggests W and SE winds prevail during the summer months.
Bridgewater Bay
(SSE-SE)
PG+HG. Steep faced dunes rises from 30' at the Bridgewater Cafe to 60' 3km east with a good beach landing. Launch from the car park infront of the Lodge.
Please do not walk up the dunes because of revegetation or this site could be lost. All the dunes are part of the National Park.
Dutton Way
(SE)
PG+HG. This is private land but the farmer has no problems with pilots flying. A grassy hill that is quite shallow, needs a stong wind to be soarable. The farmers house is opposite the caravan park on Dutton Way.
Please get permission before flying this site.
Nuns Beach
(ESE-ENE)
PG+HG. Launch from the cliffs in front of the hospital and fly both sides of the lighthouse.
WARNING: Large medical helicopter may land on helipad at hospital. You must land well away from the area immediately, do not cross approach path. No further flying until helicopter has departed.
Murrells Beach NW
(W-NW)
PG+HG. This is an alternate launch for Murrells which can be flown if the wind is more from the right.
Murrells Beach
(SW-WNW)
PG+HG. Superb site with rounded takeoffs and easy beach or on top landings. The WNW face is about 250' high whilst the SW face is around 180'. Suitable for all ratings under the right conditions.
Discovery Bay
(SW)
Discovery Bay provides many kilometres of low dunes and a good beach if you do not mind a walk.
Golf Course / Harbour Trust Road
(NE)
PG+HG. Just before the Golf Course two minutes from the centre of Portland there is a 2km stretch of 80+' grassy cliff with a small beach below takeoff suitable for INTERMEDIATE.
Cape Bridgewater Seal Cliffs
(ENE)
PG3/HG Intermediate. A sheer 120m/400' cliff. Good top landing. Absolutely no bottom landing directly below or to the right, but only 1km to safe beach landing at Cape Bridgewater Surf Life Saving Club. Emergency landing near seal pier to left. Launch is about 3/4 of the way up just before the fence starts.
Bishops Rock/Shelleys Beach
(S)
PG+HG. The launch is located on Bishops Rock. A stretch of 80-100' cliffs facing south with a good takeoff and top landing (but difficult if overshot) and difficult bottom landing. An INTERMEDIATE - ADVANCED site, very tricky if the wind is light or off. Do not launch from the revegetation area on the beach.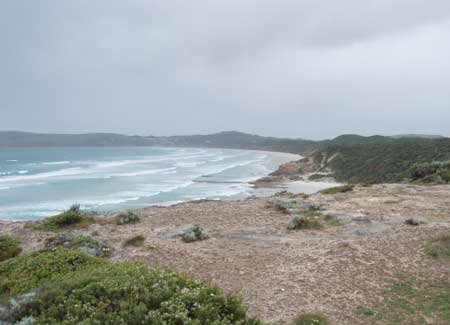 Amos Road - Whites Beach
(WNW-NNW?)
Suitable for Advanced PG and HG. This site hasn't been flown much, use caution and your own judgement. PG can beach launch if it's strong enough. Watch for rotor on launch if off to the left. Other launch spots may be more suited depending on conditions. Whites beach is the only bottom landing in either direction for a long way. Overshooting the landing is not an option.