---
Queensland > North Queensland > Cairns
Rex Lookout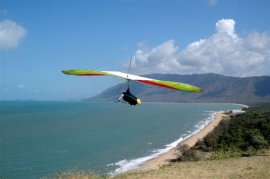 | | |
| --- | --- |
| Type | Coastal |
| Conditions | E-SE |
| Height | 55m / 170ft |
| Rating | HG Supervised, PG4 |
By the side of the main coast road halfway between Palm Cove and Port Douglas.
Landowners - ?
Contact
Cairns HGC
, Daniel Keech (PG) (
0427 888 893
), Greg Newnham (HG) (
0412 000 797
), Brett Collier (HG, PG) (
0431 151 150
)
Responsible
Cairns HGC
See also
Description
Very nice soaring for hangies, ok for paragliders. Flights to Port Douglas and Mossman are relatively easy, but you must be aware of the specific pitfalls if flying north.
All pilots must be a financial member of the Cairns Hang-Gliding Club. Temporary membership available from: Greg Newnham (0412 000 797) Daniel Keech (0427 888 893) Brett Collier (0431 151 150). Visiting pilots must be supervised and briefed by a member of the Cairns Hang Gliding Club.
Takeoff
Nice grassy launch and setup area right beside the road. Due to the need to reverse launch, the Rex is rated intermediate for PG.
Landing
On the beach about 800m to the right at the car park. Strictly no top landing for either PG or HG.
Flight
The ridge is a reasonable size, although the launch itself is quite small. If Supervised, stay south of the power line, within glide of the beach.
The Cairns Hang Gliding Club is here most weekends when the wind is on. Winter is our best flying time. That's when we get the south easterly trade winds for weeks on end. Winter is bitterly cold up here; it can drop to 24 degrees some days...
Hazards / Comments
Don't let yourself get whited out - watch for clouds forming in front and below you. Many of the local hangies fly with compasses!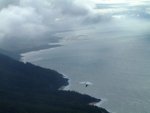 Beware the southerly. The site is only flyable in a South Easterly and the further easterly, the better!
Do not fly north from the Rex unless you have flown there a few times previously, and then for at least the first flight north, be accompanied by a club member. There are some serious traps for the un-initiated on the way to Port Douglas. We have had issues with people getting themselves into situations they didn't need to be in, hence the need for caution these days.
Local Rules and safety tips
All visiting pilots must be supervised by a suitably experienced Cairns club member.

Standard flight rules apply.

Turn Right after launch.

PG and HG regularly share lift band. Be aware of different speed and turning requirements of each.

Clear all turns BEFORE turning.

Give novice pilots and students sufficient clearance at all times.

Conditions can change rapidly. Make sure you have enough penetration to make the beach at all times.

Do not fly outside of area indicated unless supervised by a suitably experienced club member.

The football field at base of and far right of ridge is not a landing zone.

No top landing.

HG if after takeoff you are below launch go and land at designated LZ (beach).

PG if unable to reach the beach due to strengthening conditions DON'T PANIC remain above launch area, if forced back from the designated area, there are several small beaches 1.4 & 2km down wind.

Carry a hook knife.

PG If force to land in the sea, turn into wind, unclip in seated position and exit just before touchdown, swim clear of glider.

Remember a parachute and bridle can also be used like a rope to climb down from a tree.

HG Always get a Hang-check prior to launch.

PG pilots must ensure all bystanders are clear of your wing and launch area.

Channel 14 UHF.
See map for landing zone and visiting pilots area.
Map information