---
Victoria > East Inland
The Paps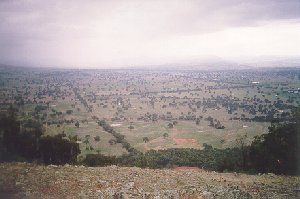 | | |
| --- | --- |
| Type | Inland hill |
| Conditions | Various launches face, N, W, E, SW, S & SE |
| Height | 1060' to 1320' (320m to 400m) agl, 700m / 2300' asl (N launch) |
| Rating | PG4 / HG Intermediate |
Near Mansfield, 120km NE of Melbourne.
Near Mansfield, overlooking Lake Eildon. Approximately 5km past the Maindample Pub (or 9km before Mansfield) enter the gate opposite 'The Paps' signpost. The land is private property so do not stray from the track. Follow the track through the paddock (to the right of the quarry), till a second gate at the entrance to 'The Paps Scenic Reserve'. About halfway up the hill, the road forks. Left to the N & W launches located at the telecommunications towers, right to the E, SW, S & SE launches located near the firewatch tower. Vicroads Map 62H2.
ESTA 000 Emergency Markers (?)
PAP100: North
PAP200: Landing
Landowners - ?
Contact/Responsible
Skyhigh
,
MHGC
Description
Large double hill. Launches are suitable for hang gliders or paragliders. 4WD access only (as at Nov 2013).
Takeoff
West
Ground ramp through tree slot
East
Open ground ramp. 1190' AGL
South
Open ground ramp. 1320' AGL
South west
Ground ramp through tree slot. 1060' AGL
South east
Open ground ramp. 1320' AGL
North
Ground ramp through tree slot. 1130' AGL
Landing
The surrounding country consists of rolling hills with many trees. Landings can be made anywhere you can find a location large enough, however beware the many trees and powerlines and be aware you may have selected a downslope. Familiarise yourself with the local area before flying.
The Northerly launch has a LZ immediately in front of launch. It is recommended that all pilots assess the suitability and landing approach options of this LZ, specifically considering, the slope of the ground, obvious obstacles, and the expected wind direction on landing. Alternate outlanding LZ's may be available but please check with locals and consider the nature of the local terrain. To get to any alternate LZ's you may need to fly across roads, trees and/or power lines.
The South, SE, East, and SW takeoffs use the same bottom LZ (currently the dry lakebed). This LZ cannot be clearly seen from the E and SW takeoff's, so it is IMPORTANT that new pilots are shown these on the drive up the hill, so they have a clear location and visual picture of this prior to launching.
Flight
Flights from this site logged in Leonardo and the Paragliding Forum
Hazards / Comments
On the eastern face there is a TWO-STRAND POWERLINE running from the top to the bottom of the hill. You should have a clear understanding of the location of this hazard prior to flying.
Map information