---
Victoria > West Inland
Werribee Gorge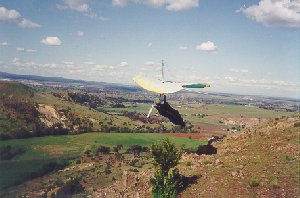 | | |
| --- | --- |
| Type | Inland - Side of Gorge |
| Conditions | N, NE |
| Height | 500' / 150m above valley floor, 918' / 280m amsl |
| Rating | PG5 / HG Advanced |
Take Dog Trap Rd upto the rifle range. As you enter the rifle range, launch is to the right of the fenceline, just outside the range grounds. Melways Map 219 for Dog Trap Rd.
Landowners
The farmer who owns the land behind the railway passionately hates hang gliders.
Contact - ?
Responsible
Dynasoarers
Description
Werribee Gorge is renowned for two things - never being on, and being very rough. Most people do not go to the Gorge unless it is really lousy elsewhere, so it is usually lousy at the Gorge too.
The ridge is used extensively by sailplanes from the Bacchus Marsh Gliding Club whenever a brisk Northerly is blowing. Thermals cook up from the sheltered valley.
The site overlooks the flood plains of the Werribee river, but is unfortunately downwind of several rather rough looking hills on the other side, hence the rough air, which has to go down before it gets a chance to go up.
Takeoff
To get to takeoff drive in to the Rifle range. Launch in the Paddock to the east of the clubhouse.
Landing
Landing on top is OK, but NOT downwind of the road behind the railway.
Flight
Werribee Gorge is best flown early in the morning, on days when the forecast is Northerly, increasing to 10 - 15kts. You should launch no later than 11.00am, because at lunchtime the Green breeze sets in. The Green Breeze is a pseudo sea breeze from the SW generated by extensive treed areas. The wind will switch to SW in the space of 10 minutes, to a strength of up to 15kts. Best flights are acheived in a firm NE with lots of Cu.
In a N, NNE getting away will see you travelling down the Bachus Marsh - Geelong Rd. You can follow the eastern edge of the Brisbane ranges all the way to Geelong.
Hazards / Comments
The site should not be flown in winds greater than 10 - 15kts. 10kts is perfect, if from due north. If the wind has any West in it whatsoever, don't even bother to set up. DO NOT fly downwind of the "lump" hill to the right. Sink City! Watch out for fierce wind gradients in the ample on top landing area behind takeoff, and power lines and fences below. The landing area at the bottom is very small, and it is a good idea to check with fliers who know the site as to which paddock you are allowed to land in. Do not forget, you will be landing in the lee of a very large hill, so expect still air at the best, or extreme turbulence at the worst. If the rifle club is operating, and it usually is on weekends, stay away from the Western end of the ridge!