Submit update
Gordon
Mt Black (Gordon) is a rounded, grassy volcanic hill with an easy open take off and landing. Farm track provides access to the crater and thence to the SE launch, if traction is good. Walk the last 150ft on the south side. On top landings are possible on the south side, but difficult due to a fence on the SE side.
Takeoff
It is generally unnecessary to ask prior permission to fly, however please use common sense. From time to time the access paddock is ploughed for crops and therefore may not be used. Also, several of the landing paddocks may be unusable due to crops.
Landing
Three landing areas are available as indicated on the map:
West paddock - large open paddock with no fences or power lines.
South paddock - just to east of dam. Beware of the diagonal power line that runs across paddock to east of dam.
East paddock - to east of launch. Beware of power line that runs along the fence line that runs east on south side of paddock.
Do not land in the three paddocks directly below the SE takeoff. These were, at one stage a good landing area and excellent training slope, but were lost to us by a thoughtless pilot. Antagonizing the farmer will not help our cause in the local area.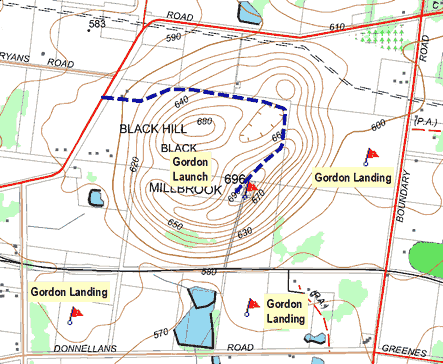 Flight
Both faces provide similarly good soaring prospects in moderate winds. Most Southerlies are unstable and produce good lift (along with sink and turbulence). South Easterly sea breezes often provide smooth ridge soaring in the late afternoon with adequate if a little disappointing height gains.
Hazards/Comments
The surrounding countryside is green and rolling and very picturesque if you get high. Unfortunately this will put you into the flight path of light aircraft flying between Melbourne and Ballarat, keep a good lookout at all times as light aircraft have passed over this hill at less that 200'. Particular care is needed between the hill and the freeway. Be aware of the power line which runs from the road directly to the group of trees below the trig point on the SE side.
Map information