Submit update
Horrocks Beach
Excellent big coastal site north of Geraldton.
Flight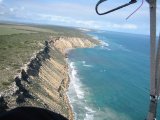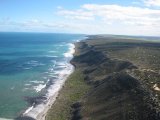 Hazards/Comments
Horrocks has a ridge that runs for more than 15km north and on the right day this an excellent site, but like all ridges you have to be aware that if the direction is slightly off, you may not get back to where you started. If the wind drops you will find yourself scratching.
The beach landing is plentiful near takeoff and although very bushy in places is not short of top landing spots which beats climbing back up the ridge. The beach is accessible by 4WD from Horrocks town, a long way round, but may be useful for hanggliders if they bomb out.
Several kilometres north are some sections with no bottom landings. At the north end of the ridge is the town of Port Gregory, but in between there are no roads nearby. Good safe coastal ridge. If wind is S there can be turbulence behind the peninsula on to the left of or on the take off area, a safer launch can be found in these conditions by walking north along the cliff tops, but it would probably be better to go and fly Mt Rennie.
In a NW wind you can fly the sand dunes south of launch. The long main ridge is best in a SW wind. The ridge shape produces plenty of lift and can be soarable with as little as 6 knots of wind on take off.