Submit update
Logans Beach
Scrubby coastal dunes. The preferred wind is a SSW, but up to a SW is fine too. Further to the east a WSW is doable, but it gets fairly difficult closer to the platform. Often it skews too westerly and makes flying impossible.
Takeoff
Park at the whale watching platform, then walk down the stairs and east along the beach for 600m to a tall rounded bluff - if you look east from the platform it is the highest dune peak you see. Walk another 50m past the bluff along the beach and then up a creek track up to the nice bowl area we top launch from. Plenty of room to inflate and launch there. The launch is located 20m east of the bluff, in a nice curved alcove free from any trees and shrubs.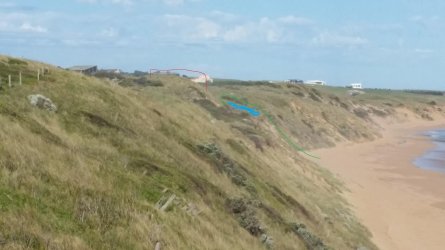 The photo shows the view from the whale watching platform - click for a bigger version. The Bluff peak is highlighted RED, just to the EAST of it is the takeoff area, highlighted in BLUE. To get there, you walk up a track via the GREEN path, behind the trees to the top launch area.
Alternatively, if stronger conditions exists, you can beach launch near the track that is halfway between the bluff and the viewing platform (just 300m east of the platform).
Do not launch anywhere near the whale viewing platforms.
The top launch should be suitable for hang gliders, but it would be difficult getting the glider up onto the top of the sand dunes - the track up is soft and difficult. On top there is plenty of space and shelter. Levy's Point Beach offers an alternative.
Landing
Anywhere on the beach.
Flight
From here is should be possible to fly the cliffs east of Logans Beach.
Hazards/Comments
Whales and associated tourist aircraft during the winter months July through September.