Submit update
Quinns Rocks
Varied beach site in the north of Perth.
Flight
After over 30 years of use, in 2018 a licence was approved for a formal launch site. Takeoff is a clear astroturfed area at the top of the dunes. Take care not to damage the dune vegetation in the area. This is a public beach so watch out for spectators. There is potential for long flights to the north, possibly linking sites at Pippidinny road and Yanchep/Two Rocks in the right conditions. City of Wanneroo is to be informed before each days flying. Details are on the sign, on site.
This site is subject to conditions issued by the City of Wanneroo which may be terminated at any time. The Dog Beach further to the south, which has good lift over higher dunes, is primarily a legislated dog walking beach - and as such has priority over paragliders. Complaints to the council about pilots making a nuisance or close calls could result either cancellation or non-renewal of the agreement.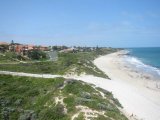 Hazards/Comments
Although only low dunes there can be rotor behind, and the strong winds required to fly can lead to injuries if dragged. Any part of your glider landing in the ocean can be fatal - don't become complacent with regards to these sites. The northern part has many rocky outcrops and beach landing areas may be limited. Do not risk landing on rocks or water. If in any doubt stick to the southern parts of the face where there is a nice wide sandy beach. Some parts of the ridge have roads, houses and powerlines behind. Be very careful flying these parts and consider avoiding these areas altogether in stronger winds.
Beach conditions below the launch site may represent a significant hazard at times. During heavy weather and high tides there may be little or no beach between the Beach Café to the north and the Dog Beach to the south. Please check beach conditions before launching.