Submit update
York - Greenhills Towing
Several tow paddocks near York are used by Cloudbase for tow operations. Operations are based from a property owned by club member John Salmon where the club tow equipment is typically stored. The property is also well equipped with overnight camping facilities including a fridge.
All these sites are on private property, and may be closed at any time, particularly due to crop, fire hazards or wet ground. Contact Cloudbase paragliding club for detailed directions, current access arrangements, and keys. There are three paddocks in regular use in the Greenhills area.
Although a daily log in is not required at any of these sites, the paddocks are not always available. If in any doubt as to the current permission status for the paddocks contact Cloudbase Paragliding Club and/or the site owner. Towing on any paddock is not permitted during a total fire ban, paddocks in crop are obviously out of bounds, and paddocks should not be driven on if they are so soft that deep ruts and bogging may occur. John Salmon's place is often locked.
Facilities: John has gone to a lot of effort to set this place up to encourage pilots to enjoy some towing and thermalling. There's a shed set up for club members to use for camping, and staying overnight is encouraged.
Permission has recently been obtained to conduct towing operations from the York Airstrip opposite Mt Bakewell. The strip runs NE-SW and is about 1.5 km long. Check with clubs for current status before going there. Also check in with York shire office to check if other air traffic and let the tourist bureau know about it to help promote our sport.
Takeoff
John Salmon's
Drive through York and turn right to Quairading rather that left to head to Northam. At about 24 Km you will find a crossroads with a sign indicating green hills to the left. The left hand road (Penny Road) is bitumen and the right (Greenhill's Road) is dirt, there's a small wooden church before the junction. About 100m past this intersection is the driveway to John's on the right. You will be able to see his house up on the rise. There's usually a streamer on the gate, the house is well back from the Road. Contact the cloudbase club for access details before you go (locked gate).
Penny's (Closed)
Site closed. Paragliding and hanggliding towing from this property is currently not permitted. Near John Salmon's.
Humphrey's
This paddock is several km north of John Salmon's Place. Copes with wet conditions better than Penny's paddock. Check for current access arrangements before going here as the paddock is often closed to flying depending on crops, livestock and fire risk. No Access to this paddock for any pilots (or anyone else) is permitted for the entire fire ban period (2nd week of November to 2nd week of March) every year. If any pilots enter the paddock during this period future access may be denied to all pilots.
Flight
Low areas can become boggy after rain; sandy areas can become boggy in dry conditions. Check on foot before driving if it has rained in the last few days. No smoking in tow paddocks. Do not park vehicles on long grass.
Wind aloft can be much stronger than on the ground. John reckons the most pleasant thermals are around late afternoon/evening in summer. Try to core a thermal and go a very long way before landing.
Airspace limit is 8500ft.
Do not land in crops or near livestock.
Site Records:
PG: Open Distance 69km Mike Dufty Apr 2000. Out & Return 33km Mike Dufty Aug 2001. Declared Goal 45km Mike Dufty Mar 2001.
HG:Open Distance: 160km Steffan Hertling. Out & Return 50km Steve Hoefs. Triangle 140km Gary Wright. Declared Goal 140km Steve Hoefs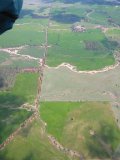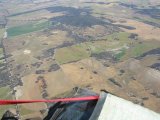 Hazards/Comments
Towing can be hazardous if not done properly, only tow if you have the appropriate rating, follow procedures in the SAFA towing manual. In summer dust devils will occur in the paddock, and can be dangerous to anyone hooked to a glider whether in the air, on tow or on the ground. Keep eyes open and warn others if they are seen.