Help protect our Hoodies
When flying at low dune sites keep your eyes out for Hooded Plover nests. They will typically be obviously marked with signs and enclosures. Give them plenty of space as they are very sensitive to disturbances when breeding (September to April) and are endangered in Victoria.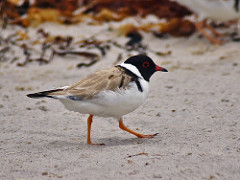 Operational agreement developed in conjunction with Bird Life Vic, Barwon Costal Committee, GORCC and Moggs Creek Hooded Plover Group
100 ft vertical clearance from nest.
Avoid glider shadows on the nest.
Avoid landing within 100 meters horizontally from the nest.
Avoid walking past nest with an assembled glider.
Known nesting locations
Moggs Creek
100m east of Moggs Creek estuary.
Breamlea and Blackrock
13th Beach
Update as of Nov 24th 2017:
Staff here have made observations regarding Hooded Plover nest scrapes along 13TH Beach, 3 nest sites with eggs at this time.
Please find below a map of the locations with reference to the nearest beach access points.
At each of the nest sites there will be identifiable facilities on the beach signage and rope cordon.
General dog access controls;
42W
- No dogs at any time,
36W to 35W
- Dogs supervised control,
31W to 30W
- Dogs supervised control.
At 40W, thoroughbred horse access permitted for 1km toward 35W
At 40W, hang gliders launch, flight usually eastward
No vehicles allowed on beach
Collendina to Pt Lonsdale
Flinders Golf Club
TBA - see signs at site.
Kilcunda
More information
Please visit the following links: