Submit update
Ocean Grove
Coastal sand dunes from Collendina to Point Lonsdale. Height of dunes: 15 metres max. At some gaps, the front dune height drops to 2 metres.
Beach nesting birds: Hooded Plovers nest in this area. Visit this page to learn more.
Takeoff
Access to takeoff is along the old road below the lookout. Assistance on launch is recommended and a positive takeoff is required. The site looks small, but provided you stay within the lift band it is possible to get high over the lookout. See picture for take off location. Hang gliders also have the option of taking off from the SE corner of the first car park. Paragliders must use the main launch due to potential conflict with parked cars.
No top landings please (HG or PG) as this is well-used public path. It's a very quick walk up from the beach.
Landing
Landings are on the beach.
Do not walk up the face of any dunes.
Use the concrete ramp next to the Life Saving Club for access to cars, or the steps back up to launch. This site has been lost before, we do not want to lose it again.
Flight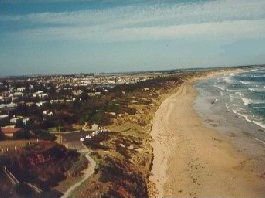 The Point Lonsdale Run is approximately 10km one way and you will rarely get over 100'. Only one very long gap, about 1km east of Collendina, three or four smaller gaps on the way. Excellent view of "The Rip" at the Point Lonsdale end. Pilots flying this trip should be intermediate minimum, able to self launch and should fly in pairs since there are not many people on this area of beach.
Hazards/Comments
People on beach, especially near beach access. Narrow beach (or none) when the tide is in. Turbulence when the wind is off, especially if the wind is around 20 knots.